Sustainability can be applied to all aspects of our lives. Our friends at Mabi Swimwear https://mabiswimwear.com/ are all about sustainability and created this post for you to help switch over from plastic free alternatives.
The aim of this article is have you rethink your spending habits when it comes to plastic. We will guide you through 10 Plastic-free alternatives that everyone should be switching to in 2020. And hopefully, get you making greener choice.
1. Exchange your plastic toothbrush for a bamboo toothbrush.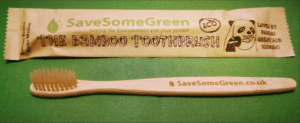 "Save Some Green Bamboo Toothbrushes" are made from 100% Genuine Panda friendly Bamboo. Even more importantly, the bamboo from which the brushes are harvested are free from fertilisers or pesticides. Simply put, Moso bamboo is naturally sustainable and one of the greatest eco materials ever! Unlike other bamboo toothbrushes, all the bristles are BPA Free biodegradable. Save Some Green is the first eco-friendly toothbrush company to infuse bristles with bamboo orBamboo charcoal to help make your brushing experience even better.
2. Replace cling film with household linen.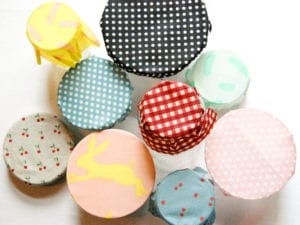 A big one is replacing cling film with household linen to wrap food. Bee Green Wraps area great alternative to Cling Film. They are 100% natural and reusable. Bee GreenWraps are versatile, mouldable, strong and water resistant, but best of all they are reusable! Bee Green Wraps are doing their bit to create a plastic-free environment. After all, there is no need for plastic lunch boxes or cling film covered food. These wraps will keep your food fresh. And best of all, you can reuse their wraps for up to a year and compost when finished.
3. Swap bottled body wash for soap bars.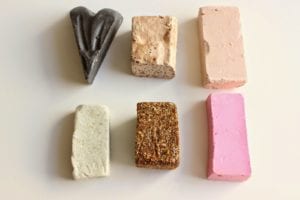 Lush are famed for their commitment to eco-friendly choices and the environment.They offer a wide selection of soaps and shower bombs, all of which come in a beautifully branded Lush paper bag.
4. Buy a seasonal vegetable box.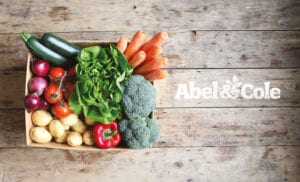 Instead of buying vegetables at the supermarket switch to a seasonal veg box. Abel& Cole veg boxes can be purchased for as little as £12.50 per week. All Abel & Cole'sBritish Veg Boxes includes six varieties of home-grown organic veg from growers up and down the country. They plan the contents of this box with what grows in Britain throughout the year, which means you eat seasonally. Veg boxes arrive weekly so you have fresh food and a variety of flavours. Weekly boxes help Abel & Cole's farmers plan and prevent waste too. And if you wish to adjust the frequency of your deliveries, it's easily done!
5. Swap your tea bags for loose leaf tea.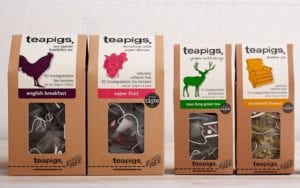 Tea Pigs' mission is to get the nation drinking real tea again. The founders believe that there's a whole world of quality teas out there that simply aren't getting the attention they deserve. And so, Tea Pigs aims to solve this. Gone are the days of forgetting to top up your teabags because Tea pigs offers a subscribe and save delivery service straight to your front door.
6. Invest in a reusable coffee cup.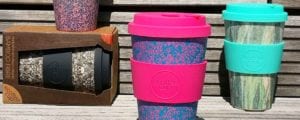 Opt out of buying coffee cups and instead have a reusable one handy for that essential morning coffee run. In the UK we use 7 million disposable coffee cups every day – that's 2.5 billion every year.  Cups are technically recyclable; however, due to the complex way they are produced, the vast majority of coffee cups are not recycled. Although coffee cups are made largely of paper, they are lined with plastic polyethylene, which makes the cup waterproof and therefore able to contain liquid. Also, the difficulty of recycling coffee cups is increased by the fact they are contaminated with drink. This means cups cannot be recycled at standard recycling plants, and must instead be taken to special facilities – only three of which exist in the UK. In reality, the amount of coffee cups that end up being recycled is less than 1 per cent.
7. Stainless steel razors are back in fashion.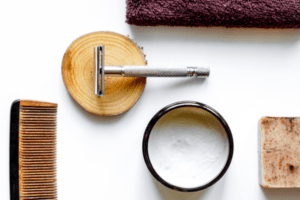 Go old school and swap your disposable plastic razor for a stainless steel razor with recycable aluminum blades. A 3-piece double-edged safety razor will give a close smooth shave for years without the user suffering from razor burn or ingrown hairs.
8. Stainless Steel bento boxes are the way forward!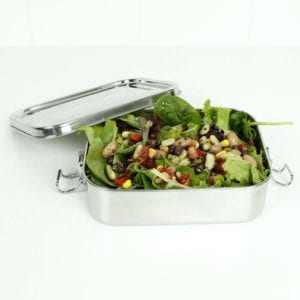 Swap your plastic Tupperware for a stainless steel bento box. Be the envy of all your work colleagues and invest in a lunchbox that will last a lifetime!
9. Exchange your plastic straws for bamboo straws.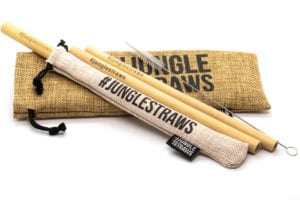 Plastic straws are a menace on the world. It's time we change our purchasing habits and opt for greener choices, especially when it comes to pesky straws! Bamboo straws are fun, functional and Earth friendly. These bamboo straws are completely biodegradable and do not pollute. Made of organic and natural materials they are the best eco-friendly alternative to plastic, steel or glass straws.
10. Choose your reusable shopping bags with love.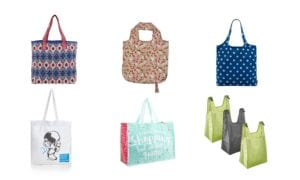 The last of 10 Plastic-free alternatives concerns shopping bags! Replace pesky plastic bags for reusable shopping bags. Reusable shopping bags can add a really personal touch to your overall look and can be bought from any store ranging from Waterstones to Aldi. Just make sure you've always got one handy at the bottom of your purse or rucksack.