Got a bucket list wish to travel the world listening to great music and experiencing other cultures while you're at it? Festivals are to celebrate life, bring happiness, strengthen our sense of community, and connect with people and share creativity, art, music, fashion as well as different getting to know different cultures and traditions.
In today's world sustainability and protecting nature has to come to our immediate attention. Thankfully there are some events that helps to promote some solutions while having a good time! Some others have some serious catching up to do, there are many things you can also change personally.
Here's a list some of the top music festivals you can find around the globe some of them with close focus on sustainability.
SXMFestival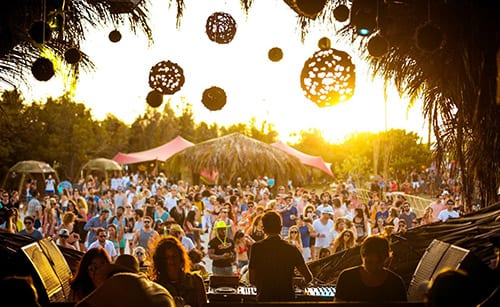 Where? St Martin
When? 11-15th March
SXM Festival is a boutique electronic music festival on the island of Saint-Martin in the Caribbean. Heading into its fourth year, the festival boasts one of the most scenic sites in the world.
To go along with its stunning setting SXM annually curates a forward-leaning lineup of underground house and techno acts that each play a three house set.
With a focus on bespoke eco-centric set design, the festival features stages on the beach, on boats, in villas and in clubs for an utterly unique experience.
Coachella Valley Music and Arts Festival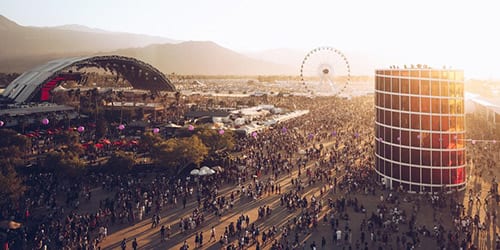 Where: Indio, California
When: the event takes place two following weekends, 10-19th April
Founded: 1999
The Coachella Valley Music and Arts Festival turned 20 in 2019. Due to its location, it's easily one of the most well-attended festivals by Hollywood types and other celebrities. It has consistently sold out since 2004, lately in the first hours of tickets going online. It's also consistently been named the best outdoor music festival in North America. The fest has been able to grab huge names from a wide range of musical genres over the years, including headliners like Prince, Beyoncé, Lady Gaga and Paul McCartney. It also includes dozens of up-and-coming bands every year during its two whole weekends of entertainment.
Over the past two decades Coachella has become one of the most renowned cultural events in the world and, thanks to its audience of celebrities and social media stars, evolved into a marketing megaphone for brands wanting to tap into its global reach.
What to wear?
Coachella is a festival vacation paradise and your clothing should match those weekend vibes. Whip out those weekend shorts with trippy and vibrant designs. Save those solid colours for Monday, Coachella is a place for expression.
Unfortunately the single use plastic at the event is not exactly environment friendly and they do not allow bringing your own bottle with you.
Glastonbury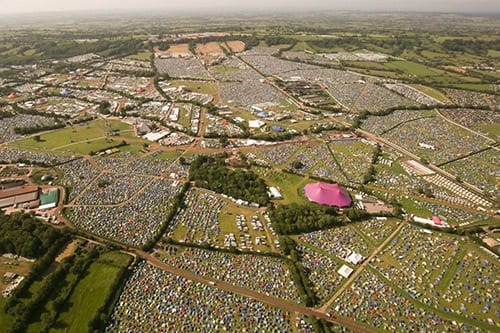 Where: Pilton, Somerset, Great Britain
When: June 26-30, 2019
Glastonbury is a five-day event that's regarded as one of the UK's most important cultural events. The festival is not annual on account of "fallow years," with the break varying depending on the condition of the farmland.
The upside: This helps the ground and the town recover from the sudden influx of tourists.
Artists who have taken to the stage include David Bowie, the Arctic Monkeys and Adele.
Amongst many others supermodel Kate Moss has been a Glastonbury regular, bringing festival fashion to public obsession.
Must have pieces: your wellies and your mac!
Garbicz Festival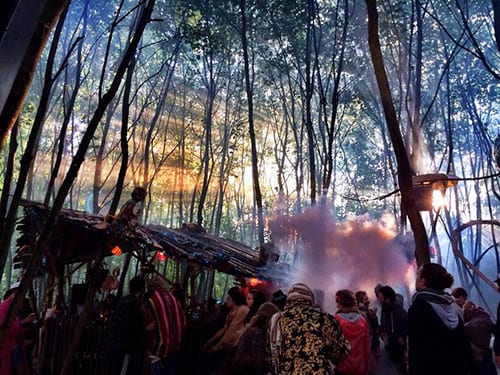 Welcome to fairyland! Garbicz is an underground festival in Poland, held beginning of August. You dance to the best underground house and techno beats in the middle of the forest where all different type of trees creates a magical vibe. To cool down you dip in the crystal clear lake formed by the Polish glacier.
Sustainability and protecting nature is a forefront goal of the organisers. No plastic is used on the site, you have to bring your own cutlery and plates and as the lake is a protected area no cosmetics are allowed in the lake. There are no single use plastic bottles, instead fill up your water bottle from the water fountains.
There is no VIP or backstage! Everyone sleeps in a tent, you rarely see people taking photos, which is refreshing in todays social media obsession.
Burning Man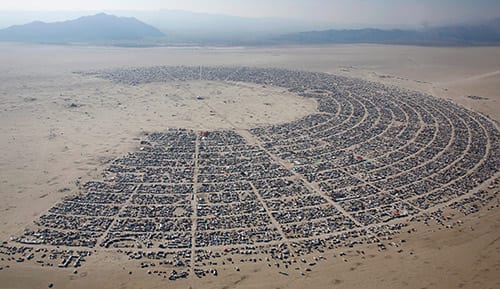 Where? Nevada, USA
When? August 30- September 7th
Burning man is not a festival. It is an annually held event, a temporary city in the Black Rock Desert in Nevada.
It is an experiment in community and art, influenced by ten main principles radical inclusion, radical self-reliance, radical self-expression, communal effort, civic responsibility, gifting, decommodification, participation, immediacy, and leave no trace.
Recycle, bring your own cup, don't bring small water bottles and other small plastic to the playa, don't use glitter amongst some of the rules as a burner you need to follow, as the desert is a protected area.
First held 33 years ago in 1986 organised by Larry Harvey and Jerry James.
Participation is a key precept for the community; selfless giving of one's unique talents for the enjoyment of all is encouraged. Examples of creativity include experimental and interactive sculptures, buildings, performances and art cars, among other media. These contributions are inspired by a theme that is chosen annually by the organisers.
The organisation provides the essential infrastructure of Black Rock City, and works year-round to bring Burning Man culture to the world and to support its global participant community in manifesting its Ten Principles through six interconnected and aspirational program areas: Arts, Civic Involvement, Culture, Education, Philosophical Center, and Social Enterprise.
Burning Man is a place for self expression, art, music, lots of dust and even more magic.
Burning Man has inspired communities worldwide to create their own "burn" and their own festivals, for example Africa Burn in South Africa and Midburn in Israel.
Ondalinda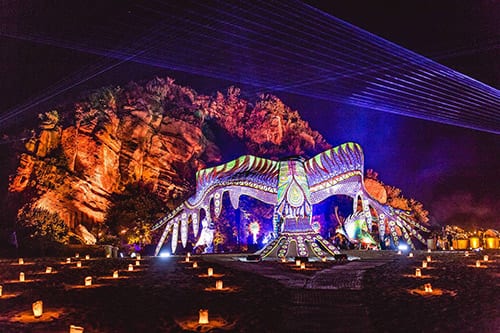 "Ondalinda is a beautiful wave of awesome humans gathering around the world to celebrate music, art and culture"
It takes place in the magical Costa Careyes in Mexico in early November.
Costa Careyes is a small community surrounded by thousands of acres of nature reserve, a private property founded by Gian Franco Brignone in 1968, it is continuously family owned and operated unique private beach resort.
Ondalinda was created in the belief that we're better off together than alone. The wave effect we seek to generate every year – be it a 'human wave' or a Pacific swell breaking on the shore – embodies the following idea, too. Specifically: even a human collective reaches its zenith at some point and when it does – when it can go no further – we're wise to look beyond ourselves and beyond our kind…and to seek out the laws of Nature for the guidance we require. It's no coincidence that the Ondalinda experiences are held in some of the most beautiful places on the planet.
It is a small exclusive festival focusing in transcendence and the importance of art, in community, heritage, sustainability, ritualism and connectivity.
Art with me Tulum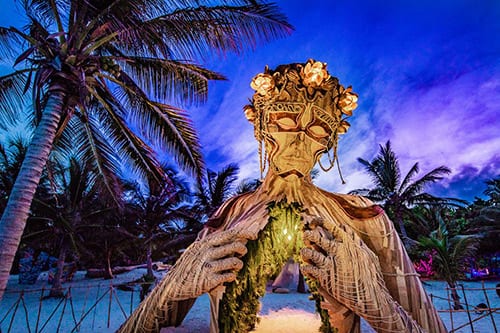 Art with me is an international arts, music and cultural festival curated to inspire us to be more connected to ourselves and build awareness about the environmental issues that affect us locally and globally. It is a community-driven festival that curates art, talks, music, wellness and cultural experiences as a platform to inspire change and foster awareness amongst attendees.
The festival weaves together an eclectic mix of experiences imagined by world-renowned artists, live and electronic music acts, speakers, yoga teachers, mindfulness leaders, and top chefs using art as a lens to examine our impact on the world around us.
The festival is working together with an organisation called "care with me" which aims to give back to the community and preserving Tulum's environment.